License Management
Each NEON subscription has a limited number of licenses based on what was purchased. Licenses are issued per device. Windows device licenses are used when logging in to NEON Command on a PC, and Android device licenses are used when logging in to one of the NEON Android apps. When a license expires, users will be able to access the NEON website and NEON apps during a 30 day grace period. When the 30 day grace period expires users will only be able to log into the NEON website, not the NEON apps.
Node ID
Node IDs are a string of random words and numbers. The purpose of the Node IDs is to give a friendly name to each device so that a device can be easily identified on the NEON website. When a device logs in to NEON for the first time, a Node ID is generated which is displayed in the about screen of the application.

Deactivating Licenses
If a subscription has used all available licenses, new users will be unable to log in and an error message will be displayed informing that there are no available licenses. Users with the admin role can deactivate a license to make room for the new user.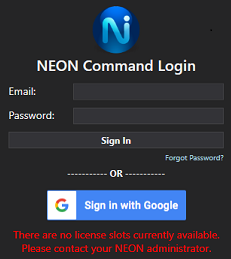 Android licenses for handheld apps such as Signal Mapper or Personnel Tracker are managed separately from the NEON Command Windows licenses on the subscription details page on the NEON website. "Licensed Android Devices" and "Licensed Windows Devices" can be expanded to show each license slot by clicking on them.

NOTE: If a device has been deactivated, it is able to log in to NEON as long as there is a license available. If it does log in again, it will reactivate its license.