Activation
Online Activation
Activation of a NEON subscription is initiated by TRX upon receiving a PO from a customer. An email is sent to the end user with the subject line "Welcome to NEON!".

The instructions in the email lead to a webpage to activate using the activation code. The person that activates the NEON subscription will become an admin by default. The admin permission can be changed on the NEON website.
Activation Code
Activation Codes are used to activate a subscription at https://neon.trxsystems.com/account/activate. They are provided in the "Welcome to NEON!" email and are provided to customers of our Signal Mapper integration partners.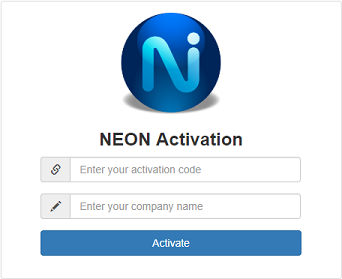 Once the company name and activation code are entered in, then the subscription is activated and an account can be set up. Users can enter either an email address or a google account for the account username.