Add New Users
There is no limit to the number of user accounts that can be in a NEON subscription. However, there is a limit to the number of simultaneous users that are logged into the NEON apps. See the article on license management for more information. All users will have access to all data recorded in the subscription including tracking history, signal maps, map data, and buildings.
The following actions can be taken by a Subscription Admin on the "Subscription Details" page of the neon.trxsystems.com website.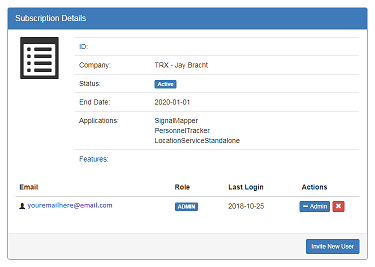 Sending an Invitation
Click the "Invite New User" button in the bottom right.
Fill in a name, email, and whether or not the new user should have an admin or mapper role.
Click the "Send Invite" button.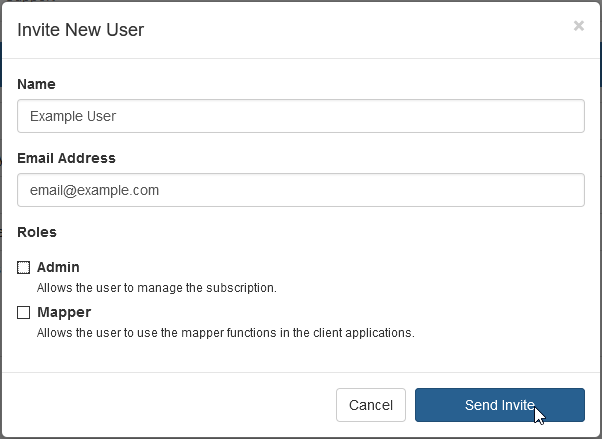 NOTE: Subscription invitations do expire 30 days after they are sent. After this, a new invitation will need to be sent. An expiring invitation can be renewed to extend the expiration date.
NOTE: Users that are currently in a subscription will not be able to join a new subscription they are invited to.
Pending Invitations
Existing invitations can be viewed in the "Pending Invitations" section and will show the details of each invitation. Several actions can be done on pending invitations.
Clicking the blue mail icon will resend the invitation email.
Clicking the blue link icon will allow you to copy the invitation link.
Clicking the blue refresh icon will renew the invitation's expiration for 30 days from the current date.
Clicking the red X button will revoke the invitation.